Sustainability & Stretch Science Define Denim Collections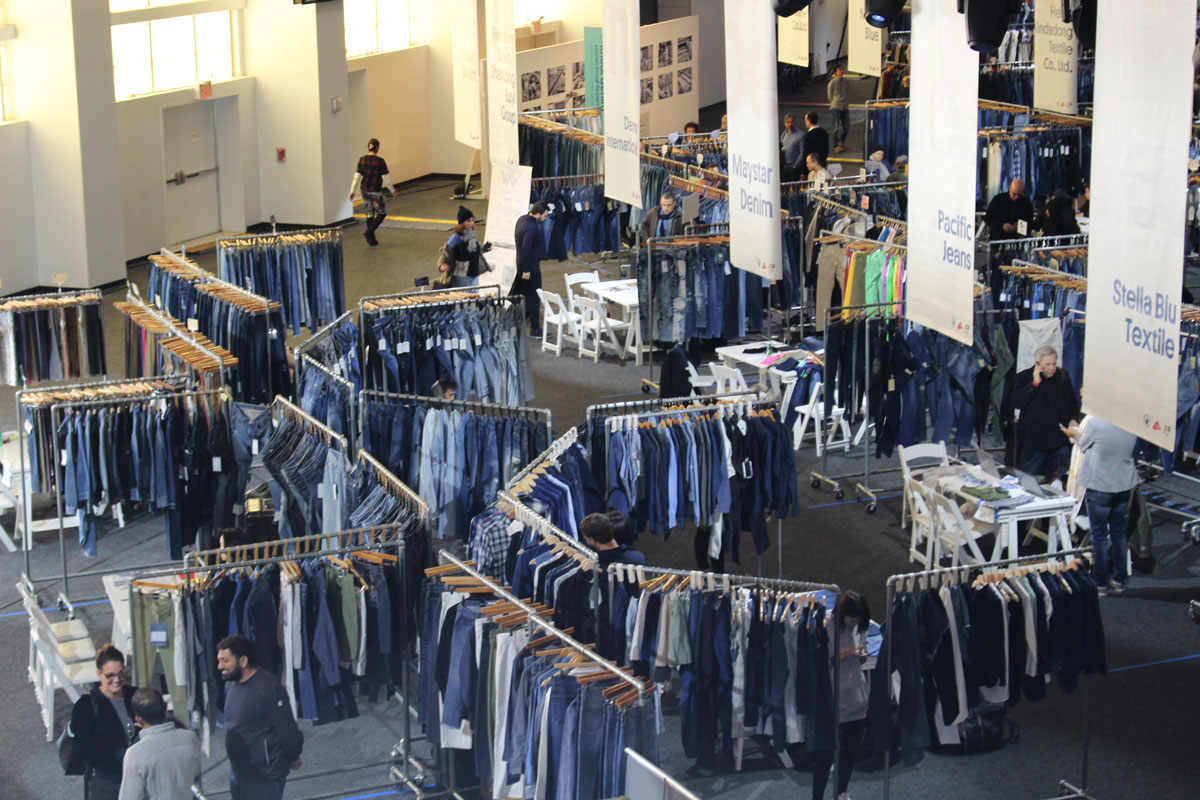 Sustainability outperformed functionality at the recent Kingpins trade fair in NYC where a slew of denim companies exhibited eco developments and trend commentary emphasized the importance of "upcycling " and "recycle, repair, reuse" for Spring/Summer 2020.
Messaging included new sustainable "eco color" from Prosperity; Artistic Fabric Garment Industries' Global Recycle Standard certification; Artistic Milliners' Cradle to Cradle certified denim and the firm's CLEAN platform that stands for Chemical Free, Laser Processing, Environmentally friendly, Alternative energy and No stones. A Lenzing capsule collection featured a new Tencel with Refibra technology. Refibra fiber is derived from recycled cotton scraps and renewable wood. Twin Dragon called out "the greenest jeans" eco finish in garments using Repreve recycled poly, Tencel and Modal.
Eco aside, performance remains a driver in denim, particularly when it comes to fit, with new technologies centered on stretch characteristics. For example, Lycra showcased FreeF!T technology. Attributes include a soft stretch that enhances comfort and makes garments easy to put on and wear, and "low growth," a property that enables garments to keep their shape over time. According to the company, the compressive force of LYCRA FreeF!t fabric is much lower than typical stretch fabric which indicates it provides less strain, more freedom to move and a wider fit window.
Hyosung also advances stretch science with its creora Fit2, a creora spandex that allows 360-stretch for comfortable wear and perfect silhouette. The company's Eco-soft product is a low heat settable spandex for better shrinkage control and sustainable with less energy usage.
Top Denim Trends for S/S 2020 are both Naughties & Nice
Amy Leverton's trend presentation has become a go-to event at Kingpins in recent years and for good reason. Leverton, based in LA for Denim Dudes, provides an energetic, entertaining and informative overview of the market. At Kingpins NY Leverton identified four main trends that define Spring/Summer 2020 including: "The Grateful Dad," "High-End," "Spaghetti Western" and "Ironic Naughties."
The Grateful Dad trend is most relevant to active/outdoor. Cargo pants, fanny packs and "all-terrain" type functionality with utility pockets galore are dominant — all very Dad-ish. However, the trend also brings a hippie/festival feel and edgier style. Tie-dye and peace signs mix with cool street looks. Sustainability is important, especially upcycling, but vegetal dyes, too. Embroidery, beading and tons of fringe are well represented.
The High-End trend also has an eco story line, but while Grateful Dad is more about wellness and outdoor lifestyle, High-End is focused on mental health. "It's a continuation of the wellness trend but more in a mind-expanding way," Leverton explains. "High" refers to the influence of weed culture. Marijuana motifs abound for next season, along with an emerging "future hippie" style.
Woolmark Performance Challenge
Wool innovation is on a roll. And if the Woolmark Performance Challenge is an indicator, the industry can look forward to continued wool advancements in seasons ahead.
In case you missed it, during Winter OR in Denver last month, winners of the Woolmark Challenge were announced in a presentation on the show floor at the Denver Convention Center. The inaugural edition of the Challenge, a partnership between Woolmark and adidas, tapped the talents of students in North America and Europe to develop new innovative product applications. The young designers did not disappoint.
Students showed off areas of expertise in product design, industrial design, advanced materials, and performance/product engineering. Top honors went to Alicia Ferreira de Sousa, from L'Ecole de la Maille de Paris. She was awarded a three-month mentorship with adidas along with a cash prize. All 10 finalists impressed the judges, as well as industry execs; it's rumored that a few of the finalists have received job offers already.
Levi's Store Opens in Times Square
Sure you can go to the new Levi's flagship store and buy a pair of jeans, but there's much more to the shopping experience at this midtown venue than product. First off, the nearly 17,000 square foot store is located in the heart of Times Square in Manhattan, so there's a something of a buzzy tourist attraction vibe, helped along by the fact that doors stay open to 1:00 a.m. Currently Levi's x Disney apparel and holiday merchandise greets customers, with Mickey Mouse t-shirts displayed next to Christmas stockings made out of denim. However, the space also houses a large tailor shop complete with iPads so shoppers have the option to custom design their denim. Take an escalator down from street level and there is an entire section focused on the history of Levi's 501 jeans with a fun timeline accompanied by black and white photos. Nearby this mini archives are racks and racks where customers can browse an extensive variety of Levi's looks that range from trendy fashion styles to denim basics. There are also dedicated spots where customers can take a load off, sit to check emails, and just take in the passing scene.