Smart Textiles: A Complex Eco-System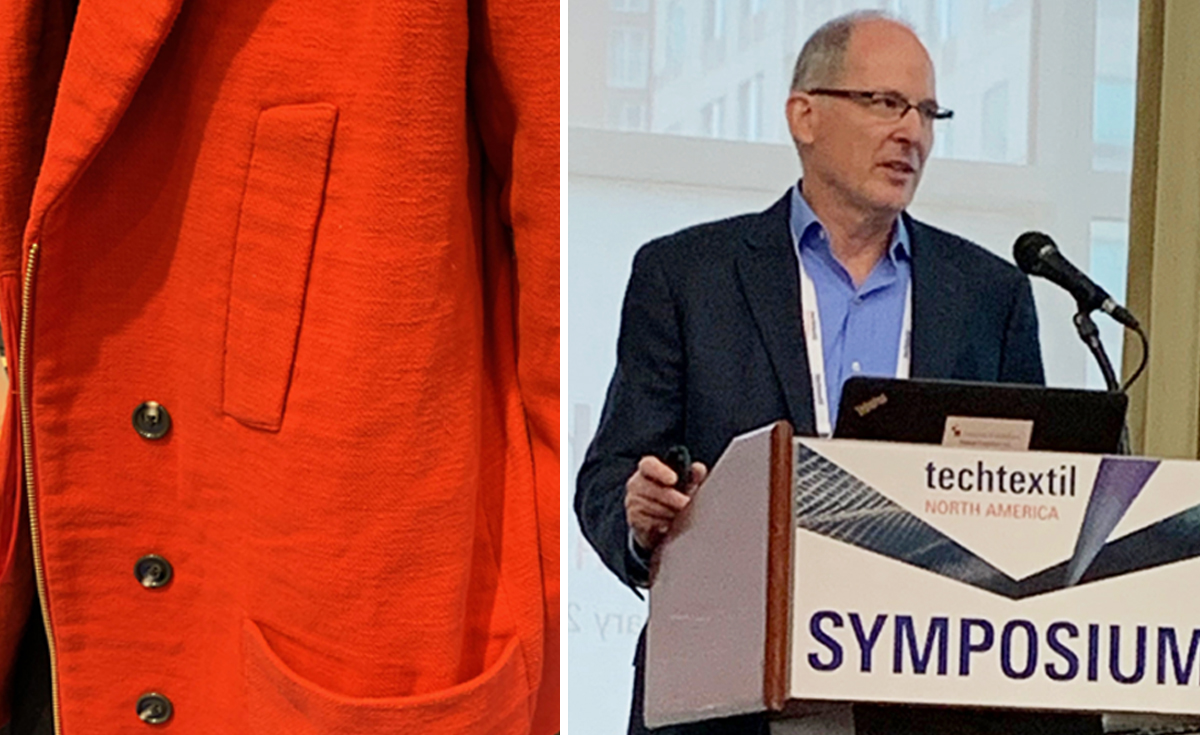 As is often the case with smart textiles, discussion seesaws between excitement about future possibilities and frustration about what is holding the industry back. While expectations for the category remain high – the latest projections are a $3 billion market by 2023, and product launches continue to multiply – the reality it is that textiles have stalled when it comes to engaging mainstream consumers with a must-have product.  
A recent seminar at the TechTextil NA trade show hit on these and other issues facing smart textiles today. The program, titled "The Smart Textile Ecosystem," drew a standing room crowd early in the morning on Day 2 the tradeshow held in Raleigh last month – a clear indication of interest in this category and desire on the part of the materials community to create a robust smart textile business going forward.  Featured speakers included Matthew Kolmes, CEO, Supreme Corporation, maker of VOLT yarns; Marty Lawrence, co-founder, Dream Catcher Innovation Labs, and Allison Bowless and Rebecca Wilson with FLEX, an electronics contract manufacturer with a Boston-based innovation center focused on soft-systems integration.  
Here's a selection of quotes and quips from presenters that shed light on establishing a viable ecosystem where smart textiles can thrive.
Matt Kolmes:
"My hope is that 10 years from now that not only will a smart textile platform exist where we share ideas and development but one that is segmented to include wearables for medical, sports, fashion, athletic and military."

"Missing in the e-textiles space is developing standards and structures to do things quickly. That remains a big challenge."

"The state of the industry is changing rapidly. I'm excited about new yarns such as magnetized yarn, color changing yarns, yarn into sensors, and yarns you do not need to solder, but use heat."  
"Conductivity is customizable and can reduce battery size; this feature will help move the market forward. Without customization the industry will stall.
Marty Lawrence:
"There has been incremental innovation whereas what's needed is breakthrough innovation."

"Challenges exist in business models, cost, fit, wash-ability and the area of end of life, especially with today's attention focused on plastics. While progress has been made in washing ability there is a lot of work to be done in this area and it will require a change in consumer habits to make this happen. On an emotional level, there needs to be a paradigm shift in terms of consumer sense of hygiene related to how to keep these clothes clean."

"The textile waste stream in 2015 was 16 million tons – or 110 pounds per person – with just 15 percent represented recycled. A recycling label is needed for e-textiles. We need to develop a new ecosystem now to address these textiles and how we can recycle and rejuvenate them."
Allison Bowles/Rebecca Wilson:

"Our 'sketch-to-scale' trademark takes an approach to tackling the big picture in the early stages. Our engineers are striving to keep production and innovation in mind as we are doing product development."

"A compelling case, with a small production run of 100 garments, is the Smart Shirt that uses soft sensors and flexible wires integrated directly into the shirt to read respiratory data useful for training and running. What sets this apart is you are able to go into the field and get physiological information rather than having to be in a lab setting."

"In explaining our process of successfully integrating electronics into textiles to our colleagues, we liken producing a Smart Shirt to making a grilled cheese; in order to make it right you have to consider all the ingredients going in."