November 21, 2018
Vol. 1 Issue 02
Random Developments Making Some Noise
If we've heard it once, we've heard it 100 times — consumers want experiences, not stuff. The latest statistics confirm this trend: travel is hot, hot, hot. Sales of fanny packs, travel packs and duffle bags are all up, according to NPD, and together these three categories now represent 40 percent of the gains in the pack/bag category.
The women's business represents a similar trajectory. While the industry has evolved significantly in terms of women's product — the old "shrink it and pink it" concept is now cringe-worthy — the outdoor market still struggles to perfect the right blend of performance, fit, color, style and dare we say "fashion" when it comes to women's apparel. However, recent stats show positive movement: six apparel categories — from bottoms to tops — all have had back-to-back annual growth in specialty retail. The women's business, according to NPD's Matt Powell is "the industry's greatest failure, but also its greatest opportunity."
Ingredient brands are upping their game in new and noteworthy ways. Allied Feather & Down, for instance, introduced a Down Wash and announced a refreshed TrackMyDown program. According to the company, 85-plus brands globally are using TrackMyDown hangtags with over 100 lined up for fall 2019. Both new items represent an emphasis on a consumer-facing approach that highlights education and sustainability. The Down Wash is interesting on a couple levels. First off, it is Certified Palm Oil-Free — a certification that is getting buzzy in eco circles — and the Wash has a collaborative element: Juniper Ridge developed a unique scent crafted based on the Cali landscape called Sierra Granite. This will serve as the base for the future Allied + Juniper Ridge exclusive scent. According to trend forecaster Leslie Ghize, who spoke at the outdoor industry breakfast during the OR Show, this kind of "quirky collab" is just what the marketplace looks to enjoy going forward.
Lastly, SeaWool made some noise at the Show, as a new ingredient technology based on crushed oyster shells. Mountain Khakis previewed a range of product that featured SeaWool that offers properties such as thermal regulation, breathability, moisture management, eco-friendly and antibacterial — in addition to being anti-static. The company behind the innovation is Smawarm, part of Creative Tech Textile Co., and parent company Hans Global LLC, based in Taiwan. The company literature explains that the raw material is biological calcium from the ocean that is refined and calcined with a nano process that united with recycled PET to become Smawarm. In other words, it is recycled crushed oyster shells. It can be used as an insulation or yarn.
Almost Top Ten List / Kurt Gray
Outdoor Retailer Winter Market 2018, Denver, CO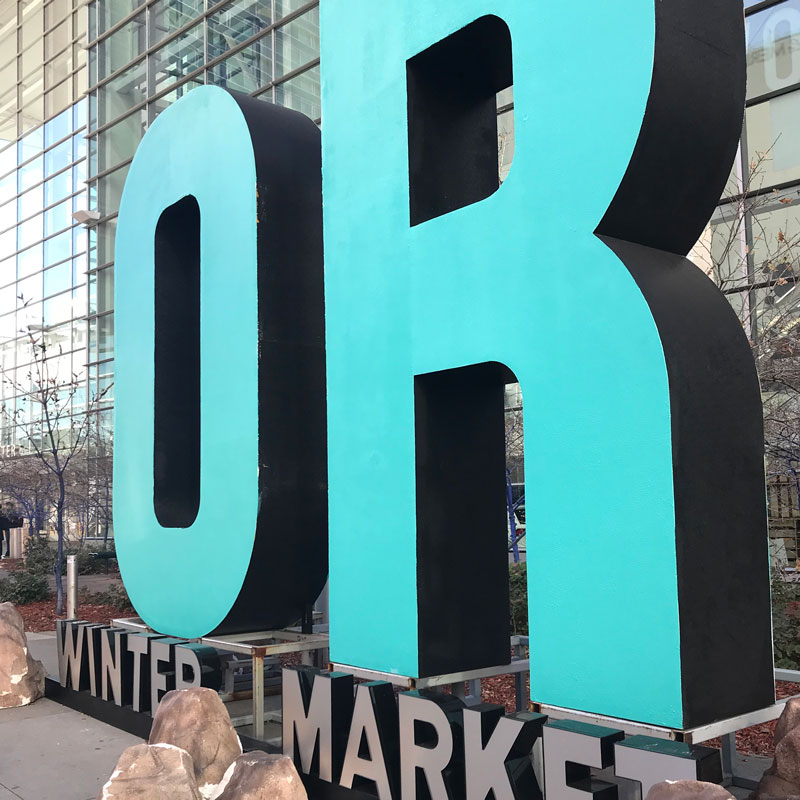 1. What if They Held a Trade Show and Nobody Came: No, seriously, what if no one showed up?
2. Let Them Eat Tacos: Taco trucks on the show floor are just a classy touch of western hospitality. Rich people here have taco trucks in their homes.
3. Sustainability Is Everywhere: The outdoor industry wants you to know that when your customer buys jacket after jacket that they should all be made sustainably on the other side of the planet.
4. Stanley: The best industrial designers in the industry; innovative, relevant and accessible product.
5. Hoka One One: The bubble shoe company subtly redefines an entire footwear category to reflect their fast, light, and sticky philosophy.
6. Diversity: The diversity push continues alongside jackets that cost as much as a semester of college level chemistry. The challenge is the promotion of affordable outdoor leisure when our culture is short of time, money and expertise.
7. Politics and Mental Health: This is the most interesting intersection in the new industry's focus. Outdoor = Happy = Another Vote for the Environment.
8. Herschel and Cotopaxi: They just keep on coming. The future younger crowd will not be wearing Dad's favorite brands.
9. Venture Out: Bright lights and concrete floors signaled the end of hipster ambiance for this little community. The retailer's problem is no matter how many outdoor editors fawn over bespoke handmade 2.24 lb. hand axes, they are really tough to sell when Home Depot has them down the street for $49.
10. Amber Alert: Milk carton missing pictures include The North Face, Patagonia, Yeti, Polartec, Carhartt, and others. Does anyone remember the last SuperShow sans Nike?
11. Brands and Retailers, Shopping Together: The secret of the OR Show has always been that both the brands and retailers are shopping at the same show. The brands are looking at fabric and trim, while the retailers are looking at next season's product offering.
Mr. Gray thinks a "taco truck" is a model made by Toyota. The Publisher may think otherwise and does not necessarily share his opinions.
November 16, 2018
Vol. 1 Issue 01
The Show Itself:
Textiles a Bright Spot at November Show
Outdoor Retailer Winter Market 2018, Denver, CO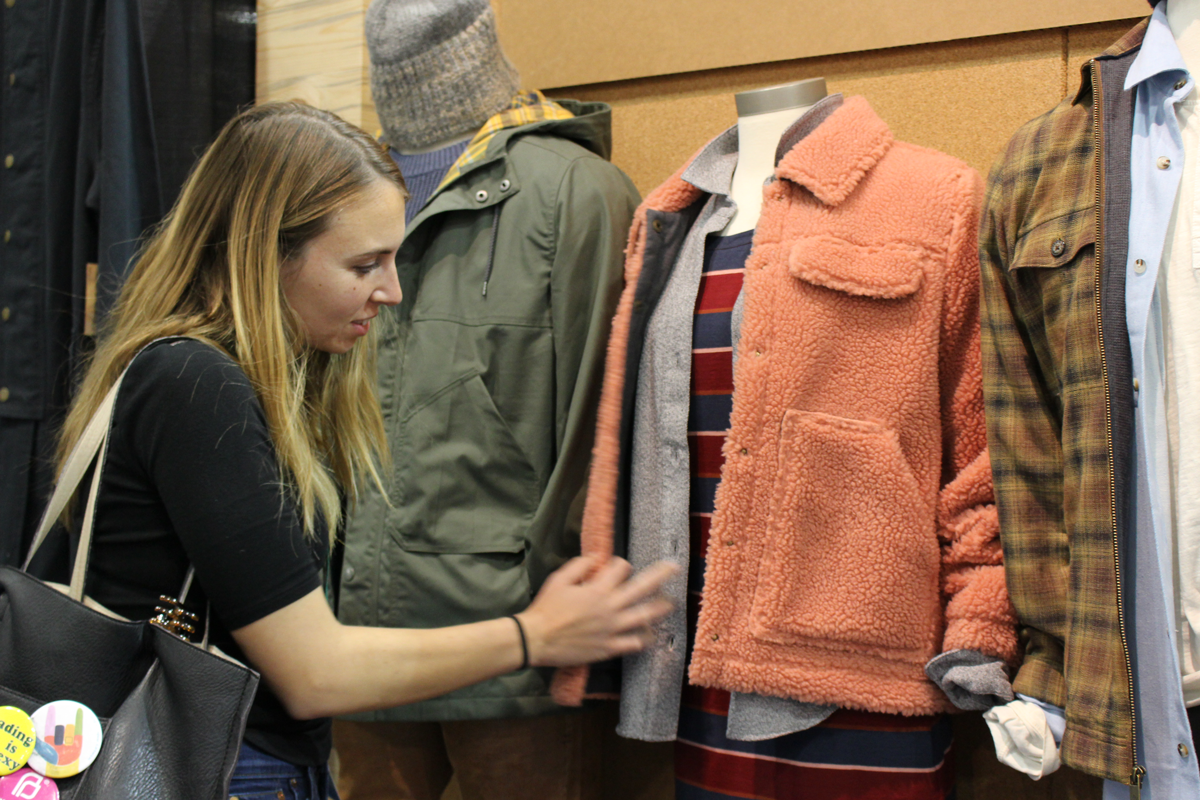 For a low-key event, Outdoor Retailer Winter Market previewed high-profile textiles. Suppliers, situated for the first time on the main trade show floor — a big upgrade from the subterranean digs where textiles usually exhibit — unveiled a slew of new eco developments, tech advances and improved dyeing and finishing treatments. PrimaLoft was honored with 'Product of the Year' at the inaugural Outdoor Retail Innovation Awards for its PrimaLoft Bio insulation. Materials also played a role in several of the other finalists' products, including Allbirds (SweetFoam), Crescent Moon Snowshoes (Eva Foam Snowshoes), GoLite (ReGreen Windshell), Tecnica (Plasma S), and United By Blue (Bison Puffer Jacket).
Alicia Ferreira de Sousa from L'École de la Maille de Paris was announced as the winner of the inaugural adidas x Woolmark Performance Challenge during a special event at the Show. The Woolmark Performance Challenge is a new annual competition for tertiary students aimed at pushing the limits of product innovation. The young designers and innovators represented did not disappoint; check out this video that profiles the finalists: https://youtu.be/COPNM-4O61Q
Performance fabric firms are positioned on the front lines of finding effective solutions to sustainability issues; show attendees filled the Trend & Design Center for a session on the buzzy topic of microplastics pollution. (Interestingly the talk was sponsored by Cotton, Incorporated; Cotton, "the ocean-friendly fiber" has now entered the eco-textile lexicon.)
While textile providers arrived in Denver upbeat and energized, the Show itself was a quiet and calm affair. Exhibitors barely filled one floor of the downtown Colorado Convention Center and a handful of key outdoor brands opted out of attending. Notably absent were Patagonia, The North Face, Columbia, Yeti and Carhartt. Without these U.S. powerhouses on site, Euro brands such as Fjällräven, Kari Traa and Helly Hansen were strongly represented.
For some, however, the relaxed vibe at Winter Market had a positive flip side: Conversations were both leisurely and productive. Some retailers wrote orders and others commented that the quality of discussions overall were more thoughtful and constructive than any other recent Outdoor Retailer show.
The textile section was a bright spot at this lackluster November event. Fabric suppliers kicked off the buying season with spirited storytelling about new product and enhanced textile processes. Last week's gathering was the first of two Outdoor Retailer shows this season in Denver, with the OR Snow Show coming up in just over two months on January 30-February 1, 2019. We'll have to wait to see what the fabric suppliers have up their collective sleeves for the next OR. In the meantime, read on for our three top takeaways from Denver. Stay tuned next week for Kurt Gray's always insightful and entertaining Show recap along with a few more textile takeaways from Denver.
#1 Takeaway:
A "Textiles for All" Attitude Emerges

The Outdoor Industry Association's "DEI" initiative, which stands for "Diversity, Equality, & Inclusion," has been a key talking point at recent OR shows. The policy may be about demographics, but it sure seems like the performance textiles community has embraced DEI when it comes to welcoming a varied assortment of new and different fabrics. Just within the insulation category there's Yak (Sherpa Adventure Gear); Bison (United by Blue); SeaWool made from crushed oysters (Mountain Khakis); an array of wool options — virgin and repurposed — including Re-Wool (Fjällräven) made with leftover wool from Italian textile facilities recycled and mixed to create sustainable repurposed wool product; recycled qualities like Re-Sphere (Nau) a loose fiber version of the company's 100 percent recycled poly insulation that moves, performs and packs small like down. And not to be missed is a nifty aluminization technology from HeiQ that radiates body heat to increase thermal retention.
More forward-thinking, open-minded innovation debuted in knits as well as wovens. Smartwool's new Intra Knit 3D technology essentially creates high-performance customized bodywear for base layer, while adidas brings knits into the world of waterproof breathables with adidas Outdoor PrimeKnit styles. In the wovens department, denims get technical with a weatherproof version from Dish & Duer and Dovetail previewed winterized denims that feature ISKO's Cosi technology, a super interesting fabrication that "blooms" adapting to temperature change. The tech is integrated into the fabric so there is no added bulk and Dovetail jeans retain great fit.
Cotton continues to find a place at the performance table. In addition to eco efforts, Cotton Incorporated announced "Beyond Fiber" research to find uses for fiber waste, or lower grade fibers not suitable for textile production, in composites and bio-based plastics, such as cellulose acetate, or in filaments for 3D printing applications.
Those who've been around textiles for awhile remember when outdoor enthusiasts believed "Cotton Kills" and natural fibers — wool, hemp, Tencel — were frowned upon as materials for performance wear. Those days are long gone, replaced with a contemporary textile culture that is open to all kinds of fibers and fabrications.
#2 Takeaway:
Textiles Level Up Sustainability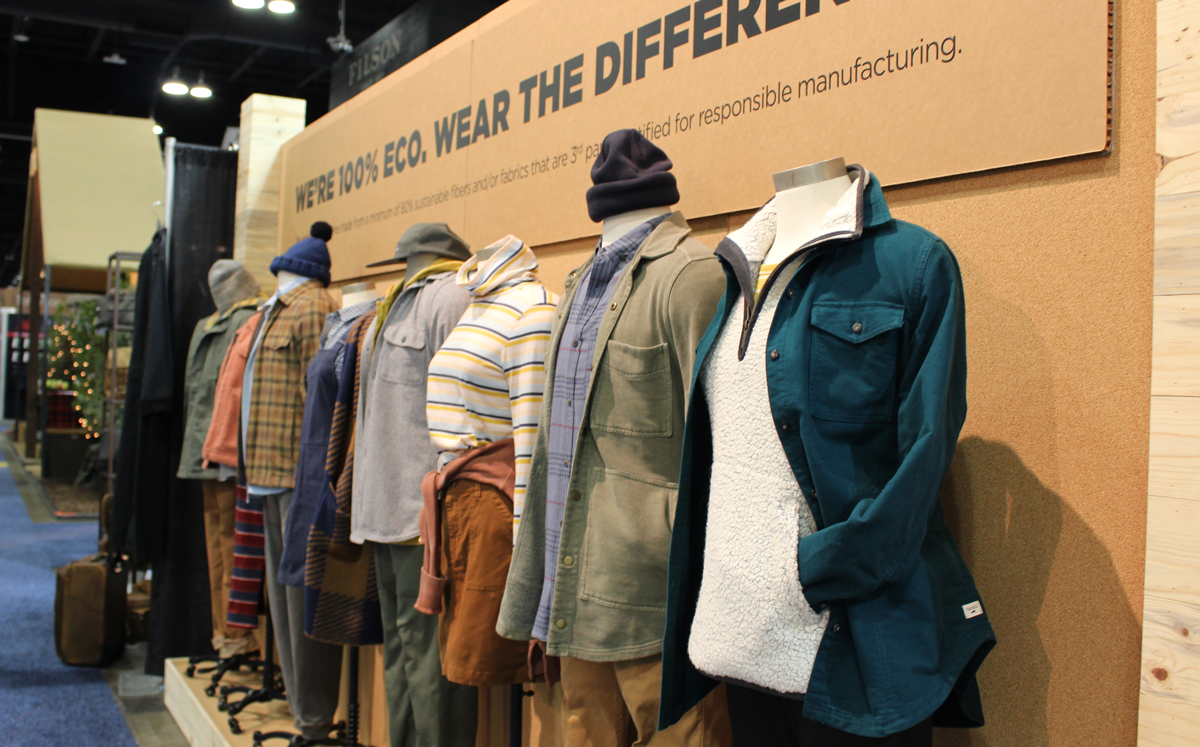 Buzz about biodegradable tech dominated in Denver, with PrimaLoft's Bio insulation featured on the cover of two of the four OR Daily publications during the show. Newsworthy is PrimaLoft's speedy follow up with this week's announcement of PrimaLoft Bio Performance Fabric, a new 100 percent recycled, biodegradable synthetic fabric. Based on the same proprietary PrimaLoft Bio technology, this latest iteration takes biodegradability to new applications such as fleece. Key to the development is how the fibers break down when exposed to specific environments — such as a landfill or the ocean. PrimaLoft has enhanced the fibers to be more attractive to naturally occurring microbes that eat away at the fibers at a faster rate, hastening the biodegradable process.
The outdoor industry as a whole is laser-focused on sustainability, with textiles leading the charge. An area with momentum is dyeing and finishing. Cordura has TrueLock fiber using a solution dye method for deep, durable, built-in color. Water-savings are an attractive feature of solution dyeing; suppliers are not only taking advantage of this eco advantage, but also modernizing this established process to achieve enhanced color range and performance. EarthColors is another innovative method from color specialists Archroma. The non-chemical dyestuff is made from organic materials like walnut shells and orange peel. EarthColors as well as solution dyeing and recycled programs were front and center in the Kathmandu booth. The New Zealand-based outdoor brand recently set up shop in the U.S. with the Oboz acquisition in Bozeman, MT.
Eco chatter on the topics of Microplastics pollution and microfiber shedding was constant throughout the Show. These are not quick fix situations. "You need to look at the whole picture. This is a very complex issue," said, Dr. Jan Beringer, Hohenstein. Beringer's research focuses on a new analytical approach for detection of micro-size fiber debris and identifying and quantifying fiber discharge in industrial laundering. This is a link to a recent webinar on the research: https://bit.ly/2ThacVz
#3 Takeaway:
Textiles Take Big Steps Forward in Footwear

Footwear for the season ahead is loaded with cool tech, fun fabrications, new finishes, creative constructions and makes strides in eco developments. Vivobarefoot notches up the sustainability factor with soon-to-release shoes that feature a triple dose of eco using materials from Susterra, Cordura and Sorona. Fabric uppers are finding good traction in outdoor, and Chaco advances the textile focus with a quilt construction in its new Chaco Borealis waterproof boot. Additionally the shoe features coffee-based charcoal fleece lining that repurposes a coffee industry waste to add warmth and odor-control — without losing the brand's signature webbing straps. Sole also leans in on eco textiles with the Sole Pemberton Lace Wool model. The footwear feature an ethically-sourced merino upper that is Polygiene treated for odor control. The ReCork midsole is made from 100 percent recycled wine corks. A new eco-friendly, water-repellent finish for leather has been developed by HeiQ. Called HeiQ DuPont ECO-LED, the innovation, in collaboration with DuPont Consumer Solutions, a business unit of DuPont Specialty Products, is launching with Wolverine. Another notable innovation comes from Tecnica with its Plasma outdoor shoe that features ski boot-like customizable fit technology. Custom Adaptive Shape (CAS) features a thermo-formable material in key areas that can be heated and compressed to conform to individual feet. Using a proprietary CAS footwear machine, retailers can provide consumers with a custom fit in only 20 minutes at the store. Another standout is Vibram's Litebase technology that slashes total outsole weight by 25 percent without reducing durability.