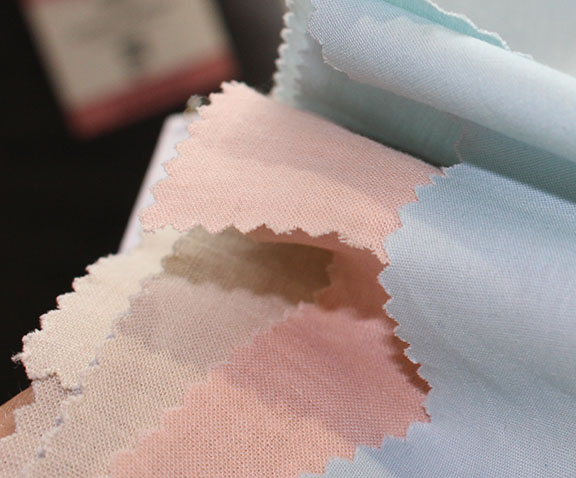 1. Material Mantra: Lighter, Faster, Stronger, Smarter
While not brand-spanking new, the "Lighter, Faster, Stronger, Smarter" ethos is so deeply embedded in textile tech that it has become a material mantra serving all matter of fabric development. Consider Black Diamond's Spring 19 Deploy Wind Shell. The garment features a proprietary 5-denier nylon fabric from Toray Japan weighing in at only 48 grams and showcases YKK's Super Lightweight Zipper, billed as 40 percent lighter than others on the market. Avra by Eastman now comes in a myriad of knit blends and a new line of wovens (in partnership with Burlington) with all Avra fabrics featuring crazy-fast dry time and wicking based on a unique polymer make-up. When talking "stronger," the term du jour is durability. Cordura, Dyneema and new textile construction techniques are elevating fabric strength without sacrificing comfort. Smart textiles are gaining ground with outdoorists. Attendee interest in this category notched up noticeably in Denver with firms like Spire, Twinery, DuPont Intexar and Bluescape garnering attention. Twinery is the innovation arm of China-based MAS manufacturing with new R&D digs in in Asheboro NC, having recently purchased the ACME production facility location.

2. Planet Pleasers: Eco Efforts in Tech & Story Telling

Good intentions reverberated throughout the Colorado Convention Center. Eco messaging was loud and clear along with lively chatter about sustainability-focused textile tech. From PrimaLoft's "Relentlessly Responsible" efforts to Burlington's new ReGenesis offering to Unifi's mobile Repreve showcase, to Sorona's expanded selection to at least another dozen examples, eco material innovation sweeps the outdoor landscape. Schoeller's collection is such that the firm takes a triple tech approach with functionality complimented by a variety of other eco ingredients. Gone are the days when sustainability compromised performance. Brands are beating the eco drum hard; Patagonia's entire wall of Spring 19 shell jackets feature 100 percent recycled materials; Toad&Co was named Environmental Brand of the Year at OR and TNF gets two thumbs up for new Renewed collection. Big strides from small companies, too: Saola has an eco impact with shoes made out of algae and plastic bottles. Other footwear vendors feature cork and recycled materials for insoles and knit uppers. It's not only that eco has captured the collective consciousness of the outdoor community, but also that sustainability now leads the way forward.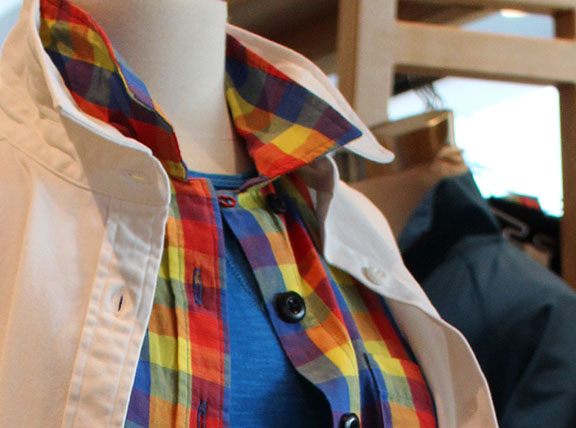 3. Work'n It: Clothing Built for Function Levels Up

A confluence of factors brings workwear to the fore, with textile technicity playing a major role in this new era of category development. Re-shoring and a focus on jobs along with a hankering for USA nostalgia intersect with skate culture's fondness for workwear styles and fashion currently keen on an utilitarian aesthetic—all are bumping up against an industry pushing the boundaries of active/outdoor while textile suppliers see a market ripe for performance fabrics.  A "Working Smarter" session held in the Venture Out section of the Show illuminated category origins and emerging growth potential with execs from Topo Designs, Patagonia, Cordura and Dovetail – a new women's specific line – hitting the nail on the head with insightful commentary. Topo's Erica Cottrell's defines workwear as "uncomplicated but utilitarian, with a sense of style and design through simplicity." Cordura's Cindy McNaull, states, "Its a tool, but one that happens to be one that you wear." Workwear signals a fresh perspective on all things "outdoor," addressing the needs of industrial athletes, landscapers, tradespeople as well as active adventurers old and new.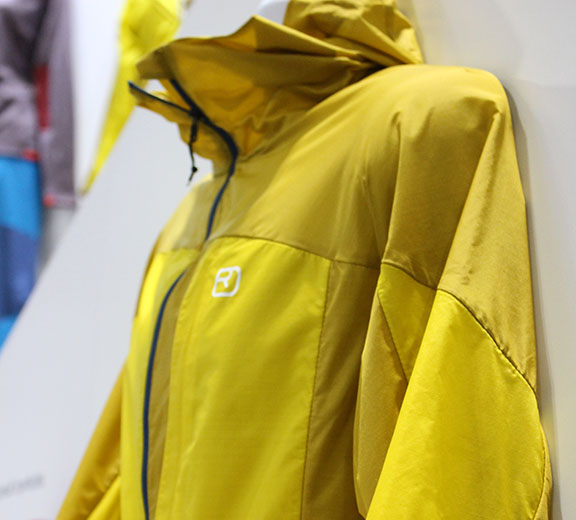 4. Merino Advances: New Ways with Wool  

It's what's inside that counts these days — with merino anyway, as creative yarn constructions usher in next gen wool wearability. The NZ Collection from ArchiTec features Global Merino's RAPT Core Nylon Construction that uses micro-nylon yarn spun at high speed while merino is spun around the nylon. The result: a strong nylon core and merino outershell. ArchiTec, a new brand from designer Justin Seale — Chrome Bags, Acre and Mission Workshop -- has Rapt Fabrics in its FW18 Base and Mid-Layer programs.  Ortovox's innovative Merino Windbreaker uses beta spun merino in the weft, which is a merino core armored with a 19-micron spiral of nylon. It is like a candy striping, so the merino remains partially exposed. The construction adds strength to a sleek garment that weighs in at a trim 136 grams for a women's medium and 158 grams for a men's medium. A new Merino Fleece Grid is also coming soon from Ortovox that has 100 percent merino against the skin with synthetics on the outside for stretch and resilience. BD's Rhythm Tee features NuYarn developed in collaboration with The WoolMark Company. NuYarn is touted as having a dry time five times faster than standard merino while providing 35 percent more stretch. Point 6 socks are 100 percent wool and feature a compact spun merino that increases yarn durability and softness without bulk. The Colorado-based firm is the first sock maker to partner with 37.5, an ingredient tech that speeds moisture management and dry time significantly.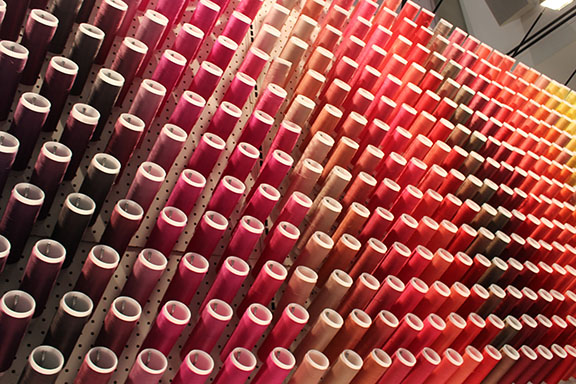 5. What's on Tap: Water Concerns Rising

Whether discussing water savings in manufacturing or saving the waterways in public land disputes or saving the oceans from plastics pollution, water is an escalating topic of discussion within the industry and with consumers. Textile makers are in the deep end on of the water conservation issue, both in terms of fabric production as well as microfiber shedding. As a result we're seeing Solution Dyed (aka Dope Dyed) gaining popularity. The pre-dying process for synthetics greatly reduces water usage compared to other methods. Recent advances in the process allows for greater color options and smaller runs. Firms like e.dye are giving solution dyed new life with tech and marketing. Cordura has made significant investment in its Camden, SC facility. In regard to natural fibers, Sudwolle's NatureTex treatment eliminates water and chlorine from the wool cleaning process. Point 6 has adopted this eco-method in its Plasma Clean Treatment. Textile innovation around microfiber pollution is starting to come to the surface.  Research on laundering is already in the works, however, there's talk that new developments in fabric and fabric construction that specifically address the shedding problem are on the horizon.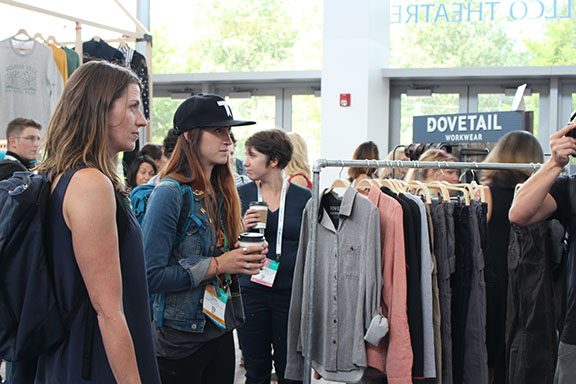 6. The Show Itself: How Many OR Shows are Too Many?
That's the question facing textile suppliers with execs struggling to come up with an answer that is right for their business, but also aligns with the consensus of the textile community. The new November Show is billed as the launch of the winter season and sets the stage for trends and sourcing; the January show is defined as peak snowsports buying season, and a combo snow+outdoor show; and ORSM19 is scheduled for mid-June to better correspond to Fall buying. Feedback from about two dozen high-level textile managers is that something has to give, and right now that looks to be the January Show, with several firms planning to de-camp and head to ISPO rather than Denver. That said nothing is set in stone and all execs say they will be back in Colorado in about three months for the new Winter OR, and the scheduling conversation continues. On other matters, textile suppliers are in agreement on being upbeat about the market. Ingredient companies are feeling optimistic that branded technologies are re-surging and that consumers want to know more about their products. Textile producers stand to gain in this age of heightened transparency.

Almost the Top Ten List / Kurt Gray
1: It's a Happening: No longer just a business get together, the OR Show has become a full-on cultural event. Experiences, politics, education, orientation. The shape, depth and breadth of the industry's spectrum is amazing.
‍
2: Denver: The show's success is helped immensely by the host city's downtown scene. I think it surprises the locals how much the flatlanders like the Mile High City.

3: Sportswear is Everywhere: The one thing everyone in the Outdoor Industry can agree upon is that we don't like to wear 'nice' clothes. Seemingly every brand is now making clothing to wear to work, and then to the pub. At the center of this trend is Carhartt holding true to a fashion sensibility that is as defining-ly American as jazz, i.e. workwear.

4: Sourcing Center: Will the Trump tariffs affect the white booth city-state full of overseas material vendors? The supply chain is anxious and the industry's elephant-in-the-room is that most outdoor product is made in far-away places susceptible to political pressure from both home and abroad.

5: Packs: We're a backpack culture and the defining accessory that you must possess is the proper brand of lowly rucksack. New-age-serious packs are better than ever with Ortovox and Blue Ice sharing the honor for being the nicest that I saw. Thank goodness for the Euros and their commitment to pure alpine-inspired product.

6: Amazon: What happens when 20th century companies run into 21st century distribution? You get market compression and price pressure. I think they say, "When you dance with the Devil, you must expect to get burned."

7: Yeti: My son used to get all excited about 45 liter backpacks, now he's all worked up about 45 liter coolers. And don't even mention the word 'growler' around him.

8: Motors: Mercedes Benz Sprinter Vans and Overlanding both want you to know that motorized recreation is good, not bad. Now you can aspire to a camping-rock-crawler-rig that costs more than your parent's house. Besides, you need a way to get that cooler to and from the trailhead anyway.

9: Venture Out DNA: The Son-of-Outdoor known as Venture Out has had a curious genetic makeup for years now. Finally we are starting to see the Main Floor Brands absorb their ethos, which is simply, 'there is room in the market for craft.' Witness the sublime content of the publication Range.

10: The 100 Piece Pant: As a sewn product professional, I just have to point out that people have been wearing pants for a really long time and if it took 100 pieces to make a great pant my granddad would have had a pair. Perfection is not usually found in complexity. Just saying…

Mr. Gray knew a growler once, but he got his teeth fixed and he sounded pretty much normal from there on out. The Publisher may not believe this story nor share his opinions.