Recycled Fibers: Where True Innovation Starts
Our 2018 REPREVE® Champions of Sustainability have helped us divert 14 billion plastic bottles from our land and oceans—by using REPREVE recycled performance fiber. As we surveyed our recently-announced winners, one thing became clear to us: For these forward-thinking consumer brands, choosing REPREVE is just the start of their amazing sustainable journeys. Let's meet three of them.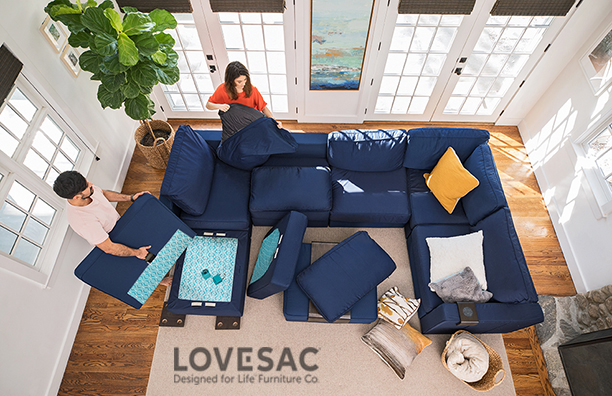 NEWCOMER AWARD: LOVESAC
Couches designed to last a lifetime
If you haven't run across this furniture maker by now, you will soon. Lovesac helped recycle more than 3 million plastic bottles within Unifi's 2018 award period. Shawn Nelson, Lovesac Founder and CEO, predicts the company will recycle more than 17 million by the end of 2019. The company is the first direct-to-consumer furniture brand to use recycled fiber in its entire product line. "It was a really obvious choice. REPREVE is a major component of our products—it's in millions of yards of fabric," said Nelson.
Lovesac's "Designed for Life" philosophy extends well beyond recycled inputs. For Nelson, sustainable product design is also about making products adaptable so they're less likely to be discarded. Based on typical purchase patterns and couch lifespans, "by adopting and using one of our sofas for life, a family can save four couches from the landfill," he said.
Less a product and more "product platform," the brand's innovative Sactionals® are designed to evolve as the owner's life changes—with solidly built, modular, rearrangeable pieces and machine-washable covers that let users change their look without discarding the couch.
Lovesac started as a "giant not-beanbag" store and now sells direct to consumers, using brick-and-mortar locations as showrooms. The relationship with Unifi has been a natural step in the brand's growth. "Their global network of suppliers has been really useful; they didn't force us to work with just their partners. In one case, through licensing, they enabled us to work with one of our existing suppliers."
ALL-IN AWARD: SHERPANI
Lifestyle bags that blend style + sustainability + function
"We are alpine design with coastal attitude," said Alexa Osbourn, Sherpani Brand Marketing Manager. "Our brand is very connected to our land and water, our mountains and oceans. It's just in our DNA.
Sherpani won the All-In special category award for integrating REPREVE extensively into its product line from the start. Its core (and most popular) product line, the Essentials collection, is made from 100% REPREVE recycled fiber—with even more colors and styles on the drawing board. "It's a no-brainer, with so many amazing materials, textiles and technologies out there that have made it so accessible to be sustainable," she said. Sherpani bags are sustainably designed to go beyond fashion, to function throughout customers' everyday lives and outlast the trends. The design process also ensures that patterns and cut pieces minimize fabric waste.
Osbourn concluded: "We all benefit from what REPREVE is doing. Being an extension of Unifi's recycling effort, and helping them make a better tomorrow, is a big benefit for us."
NEWCOMER AWARD: NEW BALANCE
Entering team sports with sustainability and authenticity
"We see high school team sports as a way to expose young athletes to our brand," said Matt Courcier, Senior Product Manager for New Balance Team Sports. The brand has helped recycle plastic bottles by putting REPREVE into team basketball uniforms. And that has created a sustainability story to tell coaches, parents and players.
"Being at this level authenticates our dedication to sport," he said. REPREVE'S message of authenticity further supports the brand's position. "We're not going to shout it, but we want to be able to tell our teams what we're doing. We're making our product sustainable for the right reasons, so we're aligned with Unifi's dedication and leadership. The REPREVE branding really means something to us."
The sports apparel brand is also working with Unifi to innovate and differentiate its team uniforms by combining sustainability with performance. Sorbtek®, Unifi's moisture-wicking technology, is being embedded in REPREVE to keep athletes cool, dry and comfortable.
The first REPREVE-based uniforms just launched this January. "Customers are receiving this very well. They understand it, they like it, and it's the right thing to do. It's a win-win for everybody."
Recognizing our winners' sustainable leadership
"We congratulate every one of our champions, and hope their achievements inspire every product designer and sustainability officer to innovate and expand their own sustainable actions," said Kevin Hall, CEO of Unifi. "We measure plastic pollution in the billions and trillions," said Helen Sahi, Unifi Vice President of Global Corporate Sustainability. "Brands like these help us recycle one billion, five billion, 14 billion plastic bottles… important steps toward a solution."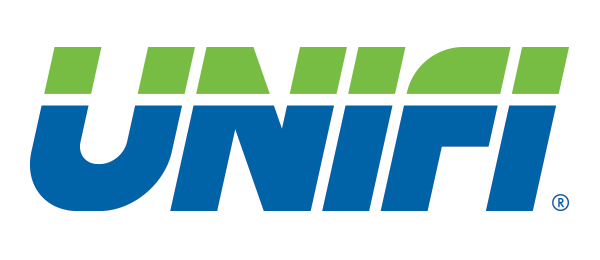 Contact Information:
Christine Spiegel | cspiegel@unifi.com
www.unifi.com